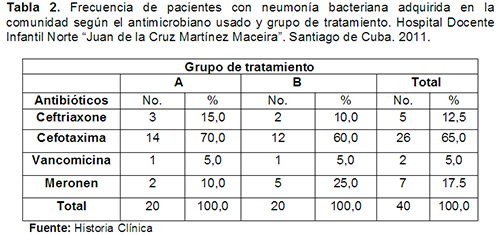 Eficacia del tratamiento homeopático en pacientes con neumonía bacteriana adquirida en la comunidad. Hospital Infantil Norte de Santiago de Cuba/Efficacy of homeopathic treatment in patients with bacterial pneumonia acquired in the community...
Resumen
Objetivo: evaluar la efectividad del tratamiento homeopático en los pacientes con neumonía bacteriana adquirida en la comunidad.
Método: se realizó un estudio clínico controlado en el que se conformó dos grupos con los niños hospitalizados para evaluar la efectividad del tratamiento homeopático en los principales síntomas de 40 pacientes con neumonía bacteriana adquirida en la comunidad, que ingresaron en la Unidad de Cuidados Intensivos Polivalentes Pediátricos del Hospital Infantil Norte entre el 1 enero y el 31 de diciembre de 2011.
Resultados: entre los pacientes estudiados, el grupo de edad más afectado fue el de 1 a 4 años (72,5%). La polipnea, fiebre y tos fueron los síntomas más frecuentes. El remedio homeopático más empleado fue Natrium
sulphuricum. El 77,5% de los pacientes mostraron mejoría.
Conclusiones: se demuestra la eficacia obtenida con la asociación del tratamiento homeopático al tratamiento convencional. Su aplicación es segura. Los pacientes estudiados muestran una más rápida y mejor recuperación clínica.
Palabras clave: neumonía adquirida en la comunidad; tratamiento homeopático; eficacia.
Texto completo:

Referencias
Behrman R, Kliegman R and Arwin A Editors. Nelson Texbook of Pediatrics 16 ed. W . Philadelphia: Saunders Co, 2009.
González J, Riverón R. Mortalidad por Infecciones Respiratorias Agudas en menor de 5 años. Cuba 70-93. Congreso Latinoa-mericano de Pediatria; 2010. Costa Rica.
Infecciones Respiratorias Agudas. IRA. OMS ARI- 90-7; 2012.
Mulholland K. Magnitude of the Problem of Childhood pneumonia. Lancet. 2013; 354: 590- 92.
Cox N. Prevention and Control of Influenza. Lancet. 2012; 354: 30.
Cuba. Ministerio de Salud Pública. Programa Integral de Atención y Control de las Infecciones Respiratorias Agudas; 2013.
Benguigui Y, Lopez F, Schmunis G y Yunes J, Editors. Infecciones Respiratorias en niños. Serie HCT / AIEIPI - 1E OPS-OMS Washington DC; 1997
Giménez F. Características clínico-epidemiológicas de la neumonía adquirida en la comunidad en niños menores de 6 años. An Pediatr .2012; 66: 578–84.
Prevention Health Books. Nuevas alternativas para curarse naturalmente. Pennsylvania: Rodale Press Inc, 2013.
Beneficio de la MNT en la calidad de vida.[citado 3 de sep 2014].Disponible en: http://www:habanaupec.Cubasi.cu/abril %207/03
Carlos Y. Homeopatía: ¡Una verdadera ventana a la vida!;2012.
Rodrígues L, Rubalcaba S. Mcpal de Medicina Natural y Tradicional. Garantía de Salud. Medison. 2014.
¿Qué es la Homeopatía.?. 2004. Webmaster: Mar13shall D. Gladstone.[citado 13 de ago 2014]. Disponible en: http//www.sacredlogic@tularosa.net
Guajardo G. Modelos biocibernéticos para explicar la curación homeopática. Boletín mexicano de homeopatía. 2012, 32: 12-5.
Acosta J. Repertorio de Kent para uso pediátrico. MEDISAN [citado 10 de dic 2013]. Disponible en:http://www.sld.cu/revis-tas/san/vol4_1_00/san08100.htm
Herman G, Cazalet S. La llamada "Ley de Hering" y otros ¿Es la llamada "Ley de los Semejantes", una ley científica?, 2004,
[citado 20 de oct 2011]. Disponible en: http://arp.sapc.org/artículos/homeopatía/hoy.html
Libro de Pediatría de Autores Cubanos. Tomo III. Ecimed. La Habana;2007.
Mengana E. Neumonías Bacterianas. Aspectos clínicos epidemiológicos, [citado 12 de oct 2012] Disponible en: http://bvs.sld.cu/revistas/san/vol_15_2_11/san04211.htm
Rojo M. Terapeútica en las neumonías. APUA, 2010.
Magaly V. Hablemos de homeopatía. Instituto Superior de Medicina Militar "Dr. Luis Díaz Soto" Comunicación Breve .Rev Cub Med Mil.34 (2) Ciudad de la Habana abr.-jun. 2005[citado 25 agosto 2013].Disponible en: http://scielo.sld.cu/scielo.
php?script=sci_issuetoc&pid=0138-655720050002&lng=es&nrm=iso
Aguirre R. La salud y la Homeopatía. 2003, [citado 7 de nov 2011]. Disponible en: http://geosalud.com/medicina_natural/Homeopatía.htm
Pommier L. Dictionnaire Homéopathique D´Urgence. 12. SETECA-SIDI. Paris, 2014 : 411-6.
La Homeopatía y la Información. Homeopatía Unicista y Homeopatía Pluralista/Complejista. [citado 30 de oct 2013] . Dispo-nible en:http://homeopint.org/books3/enzimas/patogenesias.html 24- Kent J. Filosofía Homeopática. B. Jain Pub. India. 2013: 280-87
Estregeers N. Estado Actual de la Homeopatía en Cuba. Rev Cub Medic Gen Integ, 2012; 13 (3): 282-8.
Forman A. En qué se beneficia el paciente tratado con Homeopatía. Rev Orientación Homeopática. 2012; 1(2): 27-9. [Inter-net][citado 4 de sep 2015] Disponible en: www.medicor.com.mx/beneficios-de-la-homeopatia.html
Enlaces refback
No hay ningún enlace refback.
Copyright (c) 2017 Panorama Cuba y Salud
Este obra está bajo una
licencia de Creative Commons Reconocimiento-NoComercial 4.0 Internacional
.
Escuela Latinoamericana de Medicina
Carretera Panamericana, Km 3 1/2, Santa-Fe, Playa, La Habana, Cuba. Código Postal: 19148
Teléfono: 2105386
Correo electrónico: revista@elacm.sld.cu
Este sitio está bajo una licencia de Creative Commons Reconocimiento-NoComercial 4.0 Internacional.